Are you searching for the perfect girls night light? This list has all the best, most adorable night lights for girls rooms. Whether you are searching for a night light for your baby girl's nursery, or the perfect night light for an older child, you'll find what you need here.
I wanted to take a moment to let you know that this site uses affiliate links, and this post may include some of those.
You can also check out this post on nursery night lights that may give you other cute, baby-friendly options!
1. Unicorn & Moon Night Light For Girls Room
This Unicorn & Moon Night Light is absolutely adorable and makes the perfect baby girl night light. The best part about it is that your daughter will love it for years to come. It is cute, beautiful, well-made, provides a soft, glowing light, and will help alleviate any fear of the dark your sweet girl might have.
2. Cute Cloud
Aside from putting a huge smile on your baby girl's face, this night light is super cute with a soft, warm glow. It's the perfect size for small hands to hold, and won't get too hot. This cute cloud will also rest nicely on a dresser or night stand.
3. Pink & White Hot Air Balloon Night Light For Girls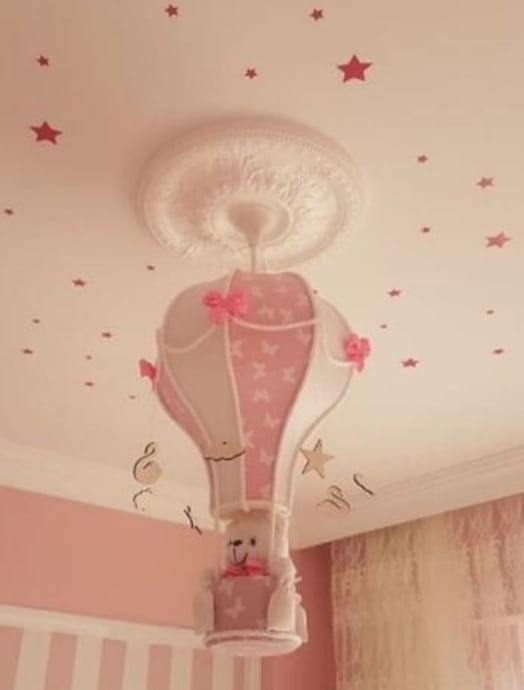 This night light has to be installed in the ceiling which makes it a bit complicated. However, for how ADORABLE this chandelier night light is, I think it is 100% worth the extra effort! It is different than a regular ceiling light because it still offers the warm glow less complicated night lights do. It's just that it's up in the air!
4. Fairy Tale Swan Night Light
This Fairy Tale Swan night light is in high demand! If it is out of stock, be sure to check out the other stunning night lights offered by Not On The High Street. They make the most unique night lights for girls rooms.
5. Miffy Dim & Sleep Night Light
If your sweet daughter loves Miffy, this night light lamp is the perfect choice! It has a 3-level dimmer and also has a 20-minute sleep timer where it will shut off automatically!
6. Disney Frozen 2 Salamander LED Nightlight
This Frozen night light is available on Target and is perfect for little girls who love Frozen 2. The Salamander is so cute and has an 15 minute automatic sleep timer so it doesn't stay on all night. It has a beautiful blue glow, and is cordless so your baby girl can hold it comfortably and safely!
7. Fairy Butterfly Papercut Light Box
This Fairy Butterfly night light makes a beautiful addition to your child's room. With a super soft light and adjustible brightness, it makes the perfect night light and decoration piece. It is tranquil and calming, and your child will find it so soothing!
8. Dolphin Night Light
A cute dolphin night light is a great nursery night light for girls and boys. You can rotate the colors and it is easy to operate. This night light charges via USB only, so keep that in mind before making your final decision!
9. LumiPets Unicorn
LumiPets makes a variety of cute night lights, and this Unicorn night light definitely fits the bill. If your baby girl's room is all things whimsical and magical, this Unicorn night light is sure to fit right in.
10. Life Size Elephant
You've got to scroll through the other available images of this night light to get an idea of how big this is. It will be a perfect room pal for any little girl! Even some adults love this night light for all its splendor and glory. Who could resist this majestic elephant?
11. Grey Owl Lou
This voice-activated Owl night light is a special sleep trainer. It has adjustable brightness for the ring and owl separately. It will turn on a soft light if your child stirs, and automatically shut off after they have been quiet for a few minutes. It also has separate timed shut-off for the own and ring. This is one of my favorite night lights for girls on this list! It's cute, stylish and very functional!
12. Cute Little Bunny Night Light
This is a super cute bunny night light your child can hold and adore. It has multiple color changing modes and is easy to control with just a tap. This one is perfect for baby and toddler girls.
13. Unicorn with Speaker
14. Neiman Marcus color changing unicorn
15. Miffy XL Lamp
16. Kawaii Puppy Dog Night Light
17. Cloud B Winged Unicorn Night Light Soother
18. Bunny Nursery Night Light
19. Country Bird In Cage Night Light
20. Cute Cat
21. Star Belly Dream Lites
22. Personalized Rainbow Cloud Night Light
23. Lisa Angel Star Night Light
24. Lisa Angel Unicorn Night Light
25. Teddy Night Light
26. Squeezable Soft Cloud Light
27. Unicorn Cartoon Night Light
28. Glowing Stuffed Unicorn
29. Mermaid In A Bottle Fairy Light
Final Thoughts
I hope this list opened your eyes to just how many awesome girls night lights are out there! I found so many cool night lights for girls that I just had to put this list together to help you find the perfect night light for your daughter, grand-daughter, niece, etc.
I hope you found this helpful, and found a night light that will leave your special girl in complete awe!