When shopping for baby night lights, you want something cute, affordable, safe, and maybe even cuddly! This list will help you find the best nursery night light to help your little bundle of joy drift off to dreamland!
I wanted to take a moment to let you know that this site uses affiliate links, and this post may include some of those.
1. Hatch Baby Rest Sound Machine
The Hatch Baby Rest Sound Machine has is a night light with a time-to-rise setting. This night light is awesome because it comes with an app you can use to fully control and customize the sound machine from your phone.
2. Baby Soother Owl White Noise Sound Machine
This super cute Baby Owl White Noise Sound Machine is every baby's dream! It's a nursery night light that you've got to have. I particularly love this one because it is so cute and cuddly.
3. VAVA Home Night Light for Kids, Bedside Lamp for Breastfeeding
Your first glance at this VAVA bedside lamp probably has you wondering, "What's so special about this?" Well, let me tell you! It is a small egg-sized baby night light and this is exactly what makes it so special. It is safe enough to have right on the bed, and you can control it with the tap of a finger! This makes it super easy to breastfeed at night. It has a timer setting that will help soothe your baby for about an hour.
I love that the dim light setting is super soft and isn't a blue light. I'm one of those people who can't handle the blue light on my phone or computer. The dim setting is just enough to help baby, and it has a much brighter setting that can light up the room if you need to change baby's diaper. This is one of the most perfect mom AND baby night lights, in my opinion!
4. Cute Chick Bedside Nightlight for Nursing/Breastfeeding
This Cute Chick Bedside Nightlight for Nursing/Breastfeeding
5. LumiPets Unicorn Soother & White Noise Machine
All the LumiPets night lights are super cute. I love this plush unicorn soother because it is soft and cuddly, and has a cry sensor. When your baby startles in the night, the sensor will detect that your baby needs soothing and begin to play soft sounds to lull your little love back to sleep. You can choose from white noise or nature sounds to help your baby calm down and fall back asleep quickly. LumiPets makes a variety of cute baby night lights, so it is definitely worth looking through what other designs they currently have available.
6. Cozzy Bear Cry Activated Sleep Soother & Baby Night Light
The Cozzy bear soother night light projects stars from its tummy and senses when baby wakes up and needs soothing. It is a very cute nursery night light that will fit in with your nursery decor. Baby will love this one forever, and the sound machine is removable so you can wash the plush bear in the washing machine.
7. Lulla Bear Shusher
I love the Lulla Bear Shusher as a baby night light for newborns because it plays heartbeat sounds. My son really loved hearing that sound and found it soothing, and I think many babies would benefit from this sound helping their baby feel safe and relaxed during the 4th trimester. It also plays white noise and lullabies, so there are other options if your baby doesn't find the heartbeat sound soothing!
This one also has a smart cry sensor to help lull baby back to sleep, as well as a velcro strap you can use to hang it from the crib or other location near baby.
8. Crescent Moon Wall Light
This Crescent Moon Wall Light can blend in with your nursery room's decor and no one would guess that it is a nightlight unless it is turned on. It provides a bright light for your child's room, that can be softened with the use of a dimmer switch.
9. Cloud B Mama & Baby Koala
This Cloud B Mama Koala is a plush, soothing night light with four sounds to help your child sleep. Some parents have swapped out the removable sound box with their phone on airplane mode to play different songs. The baby koala is a removable rattle for younger babies to play with during wake times.
10. Personalized Elephant Night Light
I love that you can personalize your baby's name on this cute yet simple elephant night light. It can fit in with pretty much any nursery decor, and will make a beautiful keepsake your child will love forever. I personally love it because it reminds me of Dumbo with those big, adorable ears! This seller makes several other beautiful engraved designs, including a unicorn design which is my second favorite.
11. Magical Wall Scene Nursery Night Light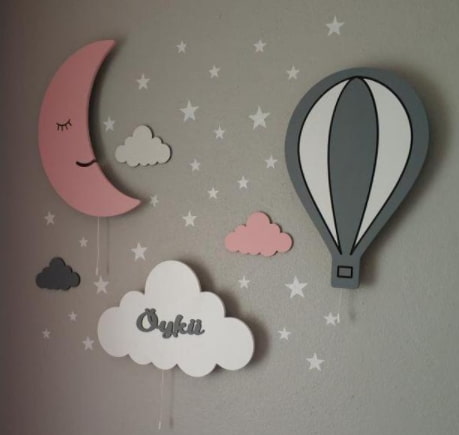 This magical wall scene nursery night light set comes with 3 night lights and 112 piece moon and stars set to accentuate the night lights. Best of all, you can personalize the moon with your sweet baby's name, making it a unique part of your baby's nursery decor. Your child will love this magical experience for years to come!
12. Personalized Pink Castle Night Light
This handmade, personalized pink castle night light is one of the most unique night lights for kids that I've seen. It is suitable for babies and older children, but do take care. It is made of thick card stock and plastic, so this is not a nightlight you want the kids playing with too much. It is more of a decorative keepsake, but it is completely functional!
13. Peter Rabbit Nursery Light
This Peter Rabbit nursery light is the perfect baby night light for your new bundle of joy! It has a soft orange glow and captures the essence of the beloved Peter Rabbit perfectly. Baby boys will love this night light and recognize its awe even as they grow. It will help to brighten the room just enough so your child isn't scared of the darkness.
14. Personalized Name Children's Night Light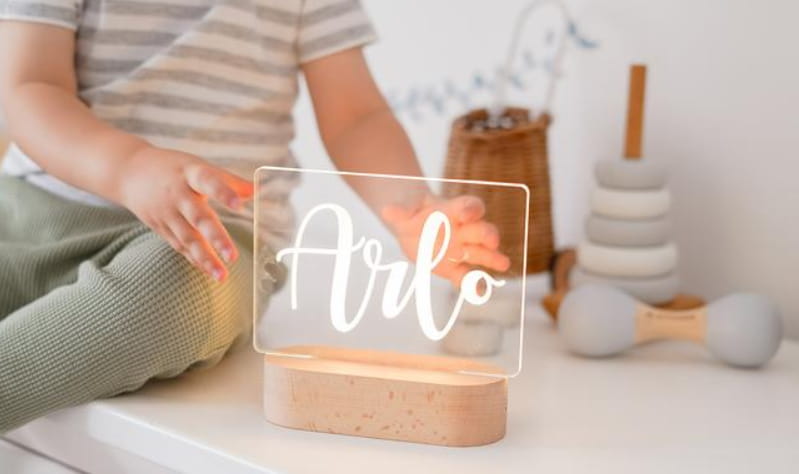 This personalized name night light for children comes with beautiful cursive lettering. It is a simple, yet a very high-quality personalized product that will make your newborn's nursery glow. It provides warmth and comfort so your baby can rest peacefully at night, knowing he or she is safe and secure.
15. Smiling Moon Night Light
This warm glow moon night light for baby's room is the perfect choice for a simple and practical nursery night light. This seller also makes smiling star and smiling cloud pattern night lights for nurseries.
16. TaoTronics Warm Night Light + Sound Machine
The TaoTronics Warm Night Light & Sound Machine has a gentle light that won't be too interrupting yet will be helpful for night time feedings and diaper changes. It has a wide variety of sounds, including natural sounds that are very calming for baby. You can control this multipurpose gadget with your voice or the app. It graduates with baby and then can help you train your toddler with good sleep habits!
17. Skip Hop Elephant Night Light Soother
The Skip Hop Night Light Soothers also serve as sound machines! There's also a cute elephant and cloud, as well as a portable baby soother. This elephant projects stars and moons, which can be super comforting to baby. When my son was young, he really loved looking up at the stars. He'd instantly go quiet and be mesmerized. It plays melodies such as Brahm's Lullaby, which is amongst by favorites for babies! It also plays nature sounds and mom's heartbeat.
Final Thoughts
These are the best baby night lights I've found, all in this super convenient list! Any one of these night lights would make a great addition to your baby's nursery.
You might also want to check out my post full of sleep tips for children.