I totally remember when I had my baby for the first time. I was in complete aww at bringing this little bundle into the world. Suddenly my own world was wrapped all around him, and I barely remembered that I was separate from him. One of these self care gifts for new moms would have been perfect at that time.
I wanted to take a moment to let you know that this site uses affiliate links, and this post may include some of those.
Moms, especially new moms, sometimes don't remember that they have needs to. Sometimes we don't remember that making a little bit of time for self-care can make us better moms.
This gift guide of self-care gifts will help you choose an extra special gift the new mom you know will really appreciate.
1. Hey There Momma Postpartum Care Package
This luxurious new momma gift set makes an awesome postpartum care gift for new moms. It comes with belly butter, baby lotion, bath salts and boob balm that is awesome for breastfeeding moms. I love the messaging telling new moms just how strong and beautiful they are.
2. Eucalyptus & Lemon Natural Handmade Aromatherapy Gift Box
This is a beautiful gift set for new moms scented with eucalyptus and lemon. It is handmade and natural and smells amazing! Let the new mom in your life know you are thinking of her even in this time where she may feel overwhelmed with this awesome gift set!
3. Self Love Affirmation Cards
These self-love affirmation cards will remind a new mom that she is special. She is important and she is loved. She is appreciated and amazing just because she exists. She can read a card per day, which won't take any time away from her new responsibilities.
Most sellers on Etsy are small businesses. These affirmation cards are no different. They are also made with love by a beautiful Black Christian woman. If you love supporting small Black-owned businesses, you can also check out the beautiful items on this gift guide of Black-owned businesses.
4. A Box Of Hugs Gift Basket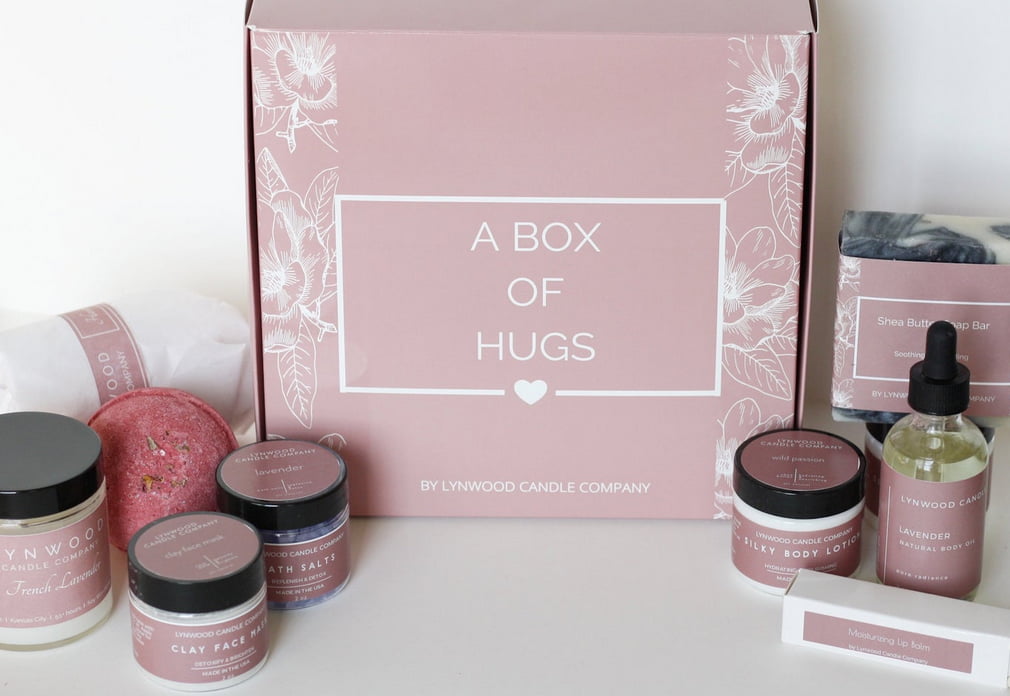 This box of hugs gift basket is one of my favorite self care gift sets for new moms. It comes with so many amazing hand-picked and hand-crafted items. The bath bombs are absolutely beautiful and come in such a rich pink color. The seller also offers multiple scent choices including French Lavender, a Seasonal Selection, and a very unique Grapefruit & Mango.
Mom will really adore all the items in this gift set, from the lip balm to the clay masks and sugar scrub.
5. Love & Hugs Mental Wellness Gift Box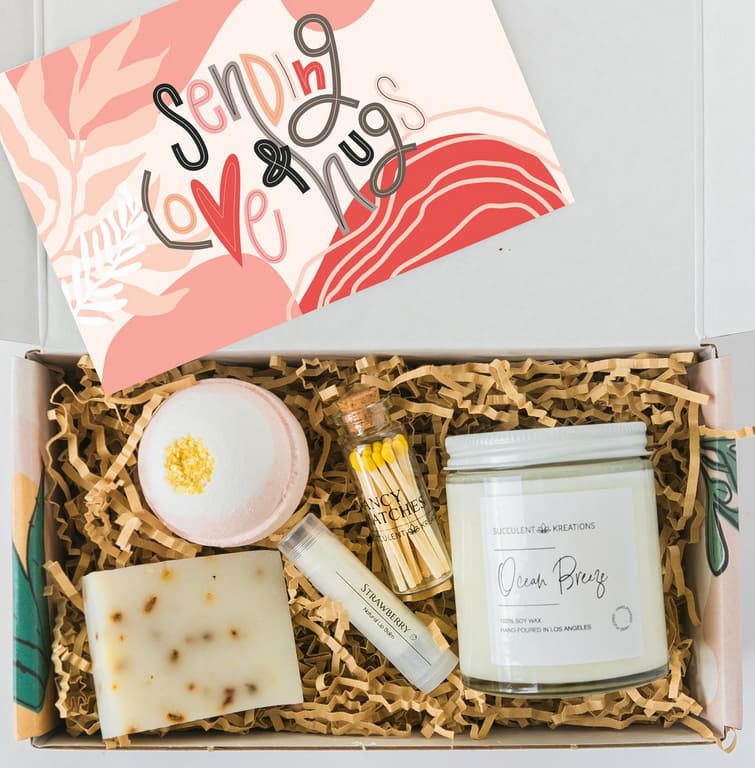 This self care package makes a great self care gift for new mothers. You can choose lavender, ocean breeze, or cinnamon & vanilla scent. There are also several customization options for this mental health and self care gift box.
6. Personalized Lavender Spa Gift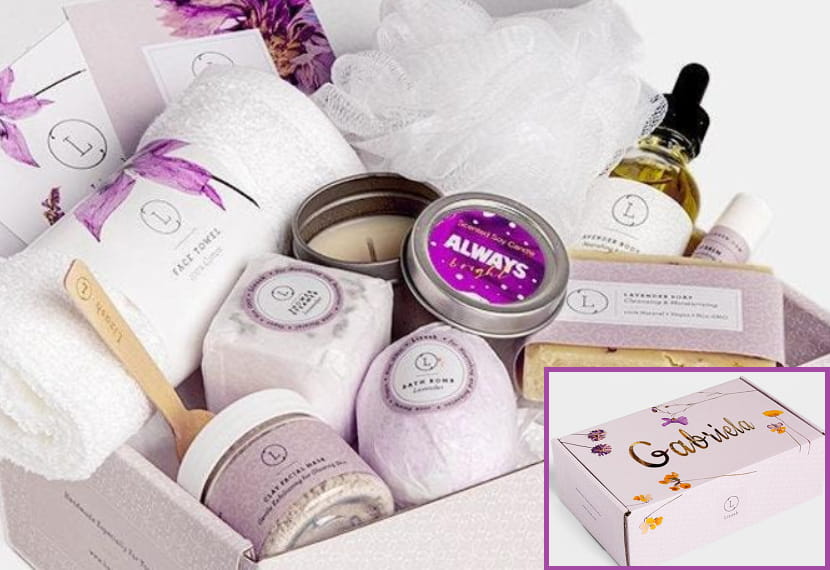 This personalized home spa kit has wowed women all over the country! It comes with all the lovely scented spa essentials new moms need, from facial masks and bath bombs. The lavender scent will help to calm mom and baby, and the personalized box adds a super special touch.
7. You Matter Aromatherapy Gift Set For Her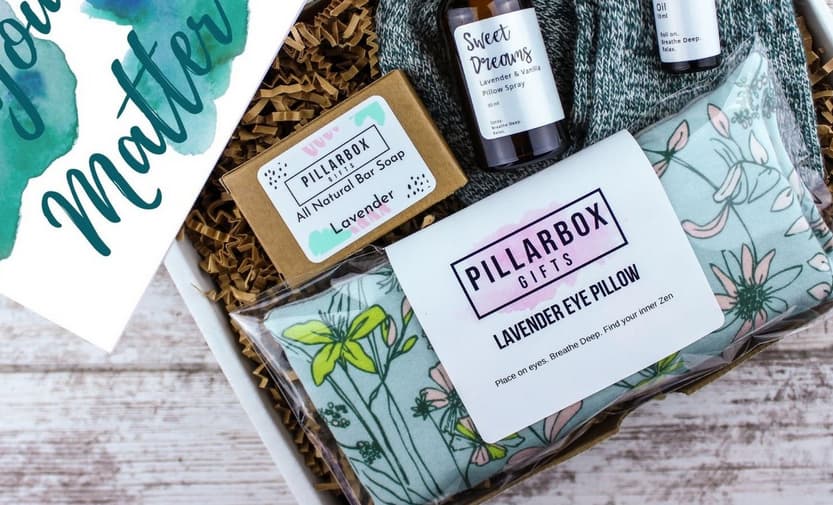 This You Matter aromatherapy package makes a perfect gift set for new moms. It comes with a lavender eye pillow, soft, super comfy socks, and a few other scented products that any new mama would love.
8. Sleep + Stress Calming Care Package
This Sleep + Stress calming care package for new moms comes with products that smell amazing and help decrease stress and anxiety and thus improve the new mama's mood. It comes with tea made of calming herbs such as lavender, chamomile, vetiver, lemongrass and ginseng. It is packaged beautifully and ready to give new moms to show your love and support for the wonderful feat of giving birth to her precious babe!
9. Organic Lavender Neck Wrap With Flax Seeds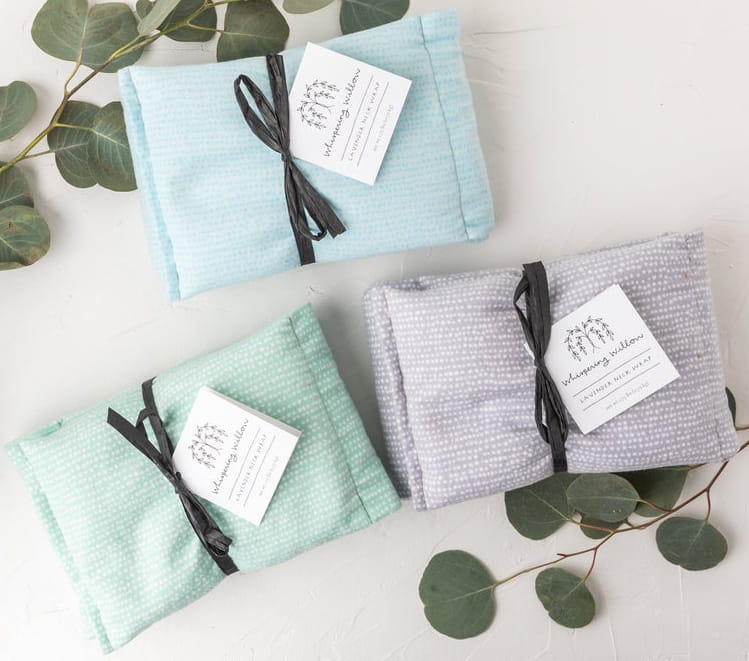 Although this organic lavender neck wrap with flax seeds looks super simple, it makes an amazing gift for new moms. Mom will be able to warm it up and soothe any aches and pains she may be experiencing. It is scented with lavender to help promote calm and peace while she gets accustomed to her new life.
WhisperingWillowSoap also sells a variety of luxurious products that new moms would love, including body oils, charcoal soaps, etc.!
10. Sunshine In A Box Gift For New Moms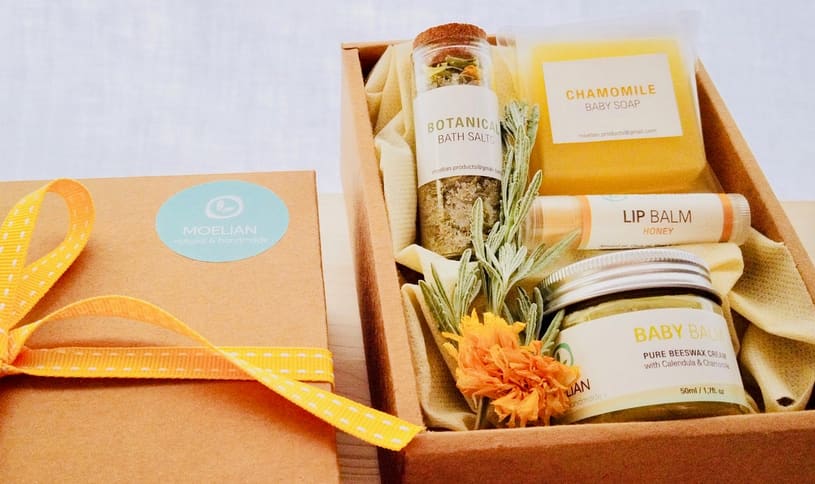 Every new mom deserves on of these organic pampering spa gift sets! It is aptly named "Sunshine In A Box" due to its beautiful, bright yellow tones. This gift box features all natural products mom can feel safe using around her baby. Chamomile and calendula make a great combination, and there's also a hint of lavender!
11. Bath Tea Relaxation Spa Gift Set
There are several choices of bath tea spa gift sets from this seller. These are perfect for helping new moms to relax and de-stress, in just a few minutes a day. These are all natural and made with dried organic flowers and herbs. Mom will love the great smells as well as how calming and healing these bath teas are!
12. Roam Homegrown Gift Set For New Moms
This Roam Homegrown gift set for new moms is perfect if she prefers an organic touch. Much of the ingredients are organic, and the face mask uses French green clay. It also includes some Torie and Howard organic hard candies which are one of my absolute favorites.
13. Organic Sunshine Self Care Box
This organic Sunshine Self Care Box is perfect for new moms who love organic products. Honey and oats are known for their soothing and healing characteristics, and this set comes with a nice Konjac sponge, soap saver bag, and a large muslin bag to pack everything in once unboxed.
14. Grapefruit & Lemongrass New Mom Gift
This grapefruit & lemongrass new mom gift is perfect for helping new moms relax. It is a bountiful gift box with multiple scents including Ylang Ylang, Grapefruit and Lemongrass. These handcrafted items are all natural, non-GMO, and use natural colorants. You can add a custom gift message for your recipient. This super special gift box can also be personalized–it literally has mom's name on it!
Final Thoughts
Any one of these self care gifts for new moms will be perfect for the new mom in your life, whether you're her husband, child, parent, sibling or friend.
A self-care gift will help her remember than in the midst of all the newborn mothering requirements, she is loved and deserving of time to herself, too. She will feel supported, respected, and appreciated.
And that's everything a new mama needs to get through those early months of motherhood!