Are you searching for the best Valentine gifts for dad from a baby or toddler? Here are some of the most awesome ideas I've come up with. I took special care to stay away from gifts that dad needs–those make better gifts for other occasions such as birthdays, Father's Day, and Christmas.
I wanted to take a moment to let you know that this site uses affiliate links, and this post may include some of those.
Instead, these Valentine's Day gifts for dads are sentimental and heartwarming. While dad can use them on an every day basis, they are definitely meant to show him how much his baby adores him now and forevermore!
These make great Valentine's gifts for first time dads, but also work well even if this is not dad's first rodeo!
1. Personalized Wallet With Custom Engraved Message
This personalized leather wallet is my favorite on this list of Valentine gifts for dad from babies and toddler. What could say I love you more?
I personally love gifts that are also functional, and dad will be SO happy to tote this around. You can engrave a custom message inside the wallet, which is perfect for adding a Valentine's Day message dad will cherish forever.
This wallet makes an amazing Valentine's gift for first time dads! But I'm pretty sure any dad would love to receive this.
2. Rustic Personalized Leather Keychain
Again, with this personalized leather keychain, I much prefer the option for a photo on one side and text on the back. This leather keychain makes an awesome Valentine gift for dad from baby because it is more rustic and "manly."
He can add it to his keychain and open it whenever he wants to take a moment to adore his precious baby.
This variation does not offer the leather color choice I love or as much customization, but the photo is printed on stainless steel backing that totally kicks it up a notch.
This variation is perfect for you if you do not have a photo to add, or just don't want to add one for whatever reason.
3. Personalized Photo On Wood
This personalized wood photo frame makes a super special Valentine gift for first time dads and more seasoned dads. What could warm his heart more than a beautifully hand-made wooden replica of a special moment with his dear babe?
You can choose the flat look or panel look, and can't go wrong with either one. I personally love the panel look (on the right).
4. Engraved Wooden Watch – A Super Unique Valentine Gift For Dad From Baby!
This engraved wooden watch is perfect for dads on Valentine's Day! How about a custom message such as:
Time goes on but my love always remains. <3, baby_name
Dad will be elated to receive such a heartfelt, functional gift from his baby, one that he can treasure on a daily basis.
This engraved pocket watch is a great alternative for dads who don't like wearing watches on their wrists. It is stunning and has beautiful customization choices, including a heart with initials. I particularly love the Oak and Mahogani, but there are several color choices for this wooden pocket watch.
5. "I Love You, Daddy" Custom Keychain
This custom "I Love You, Daddy!" keychain is so cute and will make the perfect Valentine's day gift for daddy from his young child. Their picture will add the perfect touch and remind him he was and will always be their first Valentine!
You might also want to check out this circle-shaped variation!
6. "I Love You Daddy" Footprint Art
This "I Love You Daddy" Footprint Art piece comes in sizes 8×10 or 11×14, and has several different font choices. You send baby's footprints taken at the hospital and the seller does the rest. It makes it super easy to have a nice, clean foot print memento for Daddy without the fuss of dealing with a squirmy newborn!
You'll want to favorite this shop for the most beautiful and unique personalized gifts for not only dad, but also mom, grandparents, etc.
7. Personalized Hand/Foot Prints + Stats Bracelet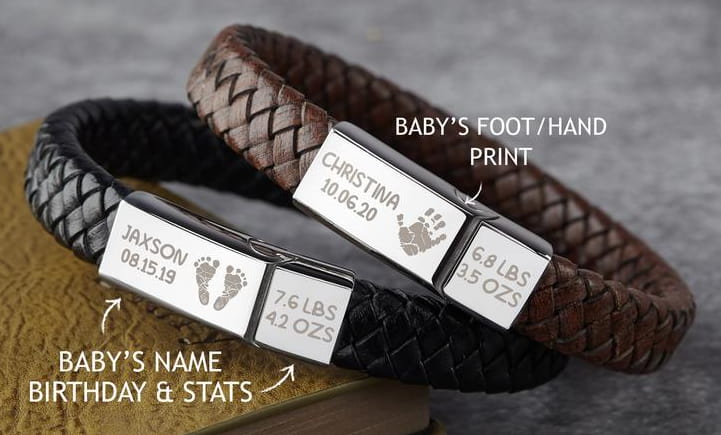 This personalized stats bracelet makes a simple, heartfelt gift for dad. Dad can wear it and love it regardless of his fashion choices.
You might also consider this thumbprint bracelet, especially if you know Dad is a "less is more" type of guy!
8. Personalized Keychain Valentine's Gift For First Time Dads
I love this personalized keychain because you can choose how you want to customize it. I personally prefer the two sided customization option with one photo and text. You can choose a nice photo of dad holding baby and write a custom message on the other side. The seller can add emoticons such as hearts, which can really make your message pop. You can check out this listing by the same seller for more variations.
How about a cute message such as:
Daddy, you'll always have my heart. <3, baby_name
This would put a smile on any new dad's face on Valentine's Day, and it's something he can keep and cherish forever.
9. Fingerprint Guitar Pick For Musician Dads
If dad loves to play guitar, this personalized fingerprint guitar pick will make him swell with pride.
Now every time he plays, he'll think of his sweet child. He'll have his or her fingerprint close, and will treasure this gift forever. This is a super unique Valentine gift for dad from baby that he's sure to LOVE!
You can choose silver, gold or rose gold for the guitar pick. You can also choose to engrave both sides.
10. Special Photo Frame Gift For Dad
This special photo frame gift lets dad know that to his precious baby, HE IS THE WORLD! He is a source of love and guidance, and will always have a special place in his child's heart.
Let dad know just how much he means, and add one of his favorite photos with his child.
This is a sentimental gift that will encourage him and remind him how important he is.
11. Happy Valentine's Day Printable Template
If you're looking for a super cute, yet inexpensive Valentine gifts for dad from your baby or toddler, this printable is the one. It's very cheap, so even if you choose to print on thick, high quality cardstock (which I highly recommend!), you'll have a frugal Valentine gift for dad that he will totally gush over!
Click here to purchase the inexpensive cardstock that I recommend. Click here to purchase an inexpensive frame to put Daddy's special gift in! You might also want to check out this glass frame!
Framing this printable will totally kick up Dad's Valentine's Day gift from his child a notch!
12. "Best Dad Ever" Keychain with Individual Name Bars
This Best Dad Ever keychain with individual name bars per child is super cute and will make a very special Valentine gift for dad from babies and toddlers!
Final Thoughts
The perfect Valentine gifts for dad from his baby or toddler is one that is heartwearming, useful, and personalized with baby's unique touches. Whether it's a fingerprint, photo, or baby's birth date, dad will love that this gift was made for him.
He'll know that he was on your mind and will do your part to ensure he and baby has a special, loving bond for years to come.