Every parent wants to make the Christmas holiday an exciting, magical experience. One way we do so is through family traditions. But what are the best Christmas traditions for kids?
I wanted to take a moment to let you know that this site uses affiliate links, and this post may include some of those.
1. Advent Calendar
Advent calendars are exciting and help with the countdown to Christmas. They come in many forms. I'd stay away from advent calendars that focus on food and focus on kindness, reading, and studying the Bible instead.
2. Participating in a Christmas Pageant
Most of us have likely enjoyed a Christmas pageant or two in our lives. But have you ever participated in one? It takes talent of all ages to make a Christmas pageant go smoothly. Why not make it a Christmas tradition for your kids to participate in a Christmas pageant?
They will have so much fun learning new skills and entertaining other families in your community!
3. Joining a Choir
Aside from being in a Christmas pageant, many churches have a kid's choir. If your child is not already in the choir, they might consider joining it for the Christmas season. They will learn new Christmas songs, enhance their singing skills, and have fun lifting their voices to praise God.
4. Caroling Door To Door
Caroling door to door seems to have gone out without a fight. In my opinion, it's kind of sad! I remember taking my two sisters door to door to sing carols when I was around 11 years old. We had so much fun, and while I think we might have been off-key, our neighbors were appreciative and encouraging!
Caroling door to door can bring a smile to neighbor's faces while building self-confidence!
5. Baking Cinnamon Rolls from Scratch
I looooove cinnamon rolls, and until I learned how to make them, I used to get Cinnabons or bake the Pillsbury dough boy rolls.
Once I learned how easy it is to make cinnamon rolls at home, I've been doing it ever since!
It's super fun to roll out the dough, sprinkle cinnamon sugar, and roll it all up. Then comes cutting it as evenly as you can, letting it rise, and baking it! Sometimes I like to put chopped almonds in with the cinnamon sugar.
And of course I love topping with honey or cream cheese icing! Your kids will love this tradition, too!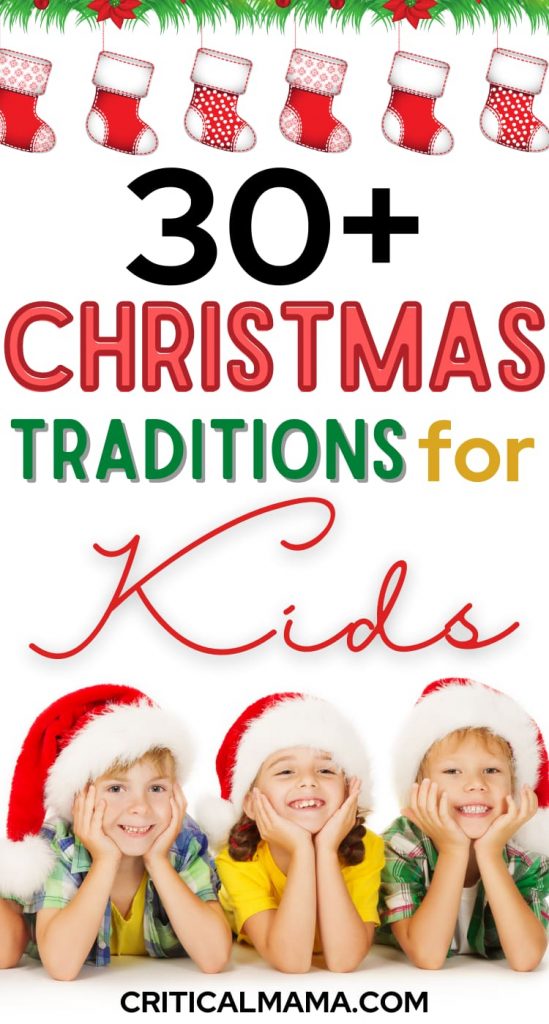 6. Foster A Senior Dog
Dogs sometimes get abandoned through no real fault of their own. Senior dogs are less likely to be adopted, and the ones that had families can fall into depression.
If your family has the heart and the means to take care of a senior dog, your love would be so welcomed! Some may not have many years left to live, but while they are still alive you can remember how you saved a soul for Christmas.
7. Adopt A Family
There are many Angel family programs where you can adopt a family living in poverty. These families do not have the extra funds to spend on Christmas gifts, but still would like to celebrate.
If your family can afford it, adopting a family is an awesome act of charity. You will get a list of children in the family and their ages. Sometimes they may already have a wish list, but some are very general lists of likes, such as "clothes, 5th grade level books, toys."
Your children can have fun helping to make a family's dream of a Christmas morning with gifts come true!
8. Volunteer At A Soup Kitchen
Depending on the ages of your children, a Christmas tradition of feeding the hungry is an amazing thing to do. This is in line with the teachings of Christ to help the less fortunate.
"The King will reply, 'Truly I tell you, whatever you did for one of the least of these brothers and sisters of mine, you did for me.'"

– Matthew 25:40
Soup kitchens/food pantries are almost always in need of help. They need help prepping, sorting, handing out food, cleaning up, and sometimes doing other tasks depending on which services they provide to the community.
It is important for our children to be around people from all walks of life to realize that not everyone lives the same and even if someone is poor, they are still real human people with needs just like the next person.
9. Donate Gifts To A Child In Need
Children in foster care don't always have the luxury of Christmas gifts. There are also homeless children, children whose parents are incarcerated, etc. There are many charities who raise funds and accept donations for children in need. See if there are any close to you. Your children will enjoy picking out gifts to help a child in need!
10. Send a Christmas Shoebox for Disadvantaged Children Abroad
There are many countries around the world that are very poor when compared with the United States. Many of these countries don't have charities or systems in place to help disadvantaged children as we do in the US.
Wouldn't it be a nice Christmas tradition for your kids to pack a shoebox filled with trinkets for a child who might otherwise receive nothing at all to enjoy on Christmas day?
The Samaritan's Purse Operation Christmas Child program focuses on sending shoeboxes filled with gifts to children all around the world. Click the link to find out more information, such as how to pack a shoebox and where to send it.
11. Send Cards to Military Members
Some military members have no family. Even if they do, they always appreciate receiving cards and gifts from people for Christmas. If they are stationed far from home, receiving unexpected mail can really brighten up their holiday season!
Be sure to teach your children how important our troops are, how they help to keep us safe for fighting for the freedoms we enjoy in America!
Here's more information on sending cards/letters to our troops, as well as other ways to show our military members that we care:
12. Plan a party at a senior home
Contact a senior home to see if your children can throw a little event! The elderly are sometimes so lonely and enjoy having company, especially during the holiday season.
When my sister and I were younger, we used to volunteer at a senior home, painting nails, singing and playing cards. It's really the simple things that light them up, and they really love the energy that children bring!
If the senior home approves, this would make a wonderful Christmas tradition for kids to bring smiles to many elderly faces!
13. Volunteer To Clean Up At Church
You'd be surprised how much work there is to do at a church! There are many ways to serve, and helping to clean is just one of them. For kids who are old enough, helping a church to clean up or with odd projects is a great way to practice humility and remember that Jesus is the reason for the season.
14. Make Custom Ornaments
There are so many different types of custom ornaments to make! Salt ornaments, photo ornaments, paper ornaments and decorations. One of my favorite Christmas ornaments is a photo ornament I received with a photography package. Another favorite is a hand print ornament that he made at school.
Here are some of the best custom Christmas ornaments I've seen!
15. Design Homemade Christmas Cards
Kids will love being creative and making Christmas cards for friends, family, teachers, and even random strangers! Get out the cardstock, crayons, markets, gel pens, stickers, glitter and other trinkets to make unique homemade Christmas cards your family will be proud of, and everyone will love!
16. Work On A Family Scrapbook
Scrapbooking used to be more popular before the Internet and such busy "have to go here, have to go there" lives. If your family has been too busy to keep a physical scrapbook, the holiday season may be a great time to work on one!
Dedicate a few days for each person to find their favorite pictures from that year, decorate them and add them to a family scrapbook. Include the year in fancy lettering for each page added.
Before long you'll have a beautiful family scrapbook the whole family can enjoy for years to come!
Special Tip: Take pictures of each page so you have a digital copy of all the hard work just in case something should happen to the scrapbook!
17. Ginger Bread House Decorating Contest
Why not make the gingerbread decorating tradition a little more fun? Get mini houses for each person and hold a contest! Let the kids be the judge. Each child can choose a winner.
18. Homemade Decorations
Make Christmas paper chain garlands, homemade wreaths, hunt for and collect pinecones and decorate them with paint and glitter. Draw Christmas trees and stars and baby Jesus laying in a manger. Hang the decorations all around the house!
19. Bake Christmas Cookies & Donate Them To First Responders
First responders have a tough job, and some days it is thankless! How about baking a delicious batch of cookies and taking for them to enjoy? Oftentimes you can call the local number and ask if they accept homemade cookies. If not, buying cookies at the store will suffice. Find out how many different shifts there are so you can bring enough for the entire team!
Your kids will enjoy baking and decorating cookies, or picking out different cookies at the store. They'll also enjoy putting a smile on the faces of those who help our communities stay safe and healthy each and every day. It will reinforce how important doctors, nurses, firefighters, police officers, etc. are in our lives.
20. Write Letters To Santa
If you're family participates in the Santa thing, then you can write fancy letters to Santa and mail them off. If you write your letter prior to December 7th and send it to USPS, Santa will send your child(ren) a response! Get more details here.
21. Christmas Movie Fridays
Let your children stay up late watching Christmas movies. This is actually one of my favorite Christmas traditions for kids! When my son was younger, he was never interested in movies. He was around 5 years old and could still barely sit through one.
Until The Tangerine Bear.
Something about that movie really caught his attention! Every year we make it a goal to watch several Christmas movies together.
Here are a few other Christmas movies that we've really enjoyed:
Home Alone
Trolls
The Nightmare Before Christmas
Jingle Jangle: A Christmas Journey
22. Secret Santa
Our family has a tradition where we do a Secret Santa gift exchange instead of each person buying everyone a gift. It saves money and time, and it's fun! On Christmas morning, we each get out a piece of paper and guess who everyone got. The person who gets the most correct guesses gets $20! If there is a tie, the $ is split evenly.
While we do this with the entire family, you might choose to have your kids do this with each other, or do a Secret Santa with your extended family!
23. Visit Different Neighborhood Christmas Displays
We aren't huge Christmas decorators. We do put up lights and sometimes a few other odds and ends, maybe a reindeer or decoration gift or two. But some families really go all out! Some neighborhoods make a concerted effort to have an amazing Christmas display you would think came straight from The North Pole!
We love to drive to some of those neighborhoods each year and appreciate the extravagant displays. My son is always in awe, and loves the opportunity to walk around at night.
Some people do choose to stay in their cars and view the displays, and in some neighborhoods that's perfectly fine.
24. Open One Gift On Christmas Eve
We personally like to leave all the gifts for Christmas Day, but some families have this Christmas Eve tradition and you can be the kids love it! I mean what child wouldn't love being able to break the rules a little and open a Christmas gift early?
25. Ride The Polar Express
Find out if there is one near you, because this is an amazing trip! Our local Polar Express train ride features hot chocolate and cute little bells the children can ring. They wear pajamas for a "real train ride" and all the kids have such huge smiles!
26. Talk About Jesus' Birth
This one goes without saying. Jesus is the reason for the season! Have a discussion reinforcing the miracle of His birth. Watch related movies, do crafts, and ask questions. You'd be surprised what your child comes up with!
27. Christmas Family Photos
I've seen many unique and creative Family Christmas pictures over the years! I personally love fancy dress ups and matching pajama pictures the most. I also love pictures with Santa or elf hats!
The most unique idea I've seen I just saw this year (2020). One lady commissions an artist to draw her family (pets included) in a different way every year! She uses these pictures for her family Christmas greeting cards. I bet her loved ones LOVE it!
28. Kindness Elves
These little Kindness Elves are the cutest thing I've seen in a long time! You might have heard of the mischievous Christmas elf, "Elf on the Shelf." Well, I think he focuses too much on kids' behavior and is kinda creepy!
But these Kindness Elves ultimate goal is to focus on good and spreading kindness across the globe! They are shipped from the UK, so try to order by mid-November to get them in time for the entire Christmas season!
29. Christmas Stockings
Many people use Christmas stockings every year. But how about filling them with personalized notes each year instead of filling them with candy and useless little toys? Each person can try to put at least 5 nice things in each person's stockings. Write about why you appreciate and love someone so much.
You can open these up on Christmas Eve, Christmas Day, or even the day after Christmas when things have calmed down a bit more. Imagine how excited everyone will be for this awesome self-esteem boost?
30. Donating Old Toys
Make it a tradition to clear the clutter and get rid of toys they no longer love. Kids who are used to downsizing will have less trouble letting things go. Knowing their donations will help other children in need of Christmas surprises may also help them detach from toys they don't use as much, and make room for their new Christmas blessings.
Helping our children to have a charitable spirit is very important and will benefit them in many ways!
Aside from orphanages and the Christmas shoebox, they can donate gently used toys, clothes, etc. to charitable organizations such as The Salvation Army and Toys for Tots.
31. Attend a Christmas Pageant
There's a church lose by me that puts on the most extravagant Christmas displays! I'm talking animals, professional musicians, angels hanging from the ceiling, firework displays, and multiple talented individuals singing, acting and dancing for hours!
A friend of mine and I love to watch it every year. While the heart of it is the story of Jesus' birth and some of the miracles he performed throughout his life, they vary the visuals year after year and it keeps things interesting.
See if there are any big productions near you that the whole family can enjoy year after year. Kids will love the acrobatics, music and fireworks!
32. Host A Christmas Talent Show
This would be a great thing to do with just your family if you have a bigger family, or to invite a neighbor or friend or two. This is something we used to do in elementary school that I really enjoyed.
Each person can choose what kind of Christmas-themed talent they want to do. Afterwards you can enjoy a nice meal together. This would be nice to on an otherwise quiet evening leading up to Christmas Day.
Final Thoughts
There are so many awesome Christmas traditions for kids that you can start within your family. You might also consider the following posts for other ideas to make Christmas magical this year:
Which one of these ideas do you like best? Do you have any unique Christmas traditions that your children enjoy? I'd love to hear about what your family does to make the holiday season extra special!